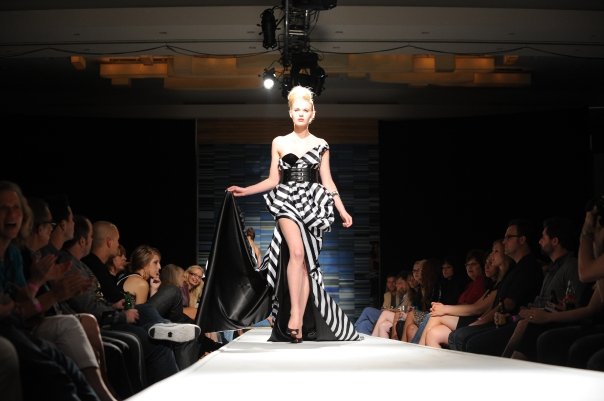 Celebrating their 10th season anniversary, ENVISION: Artopia Spring 2012 is the Cities' largest fashion event, honoring the best in local fashion, art and music. Envision will feature two high-impact runway shows starring lovely Ignite models who will exhibit 15 talented designers' vibrant spring ensembles. The evening with include live painting, dance beats, creative cocktails, lavish decor and of course, more than 1000 of the best looking fashion enthusiasts in town. ENVISION: Artopia Spring 2012 will be hosted by Joan Erakit of TheBrownGirlFiles. A portion of the proceeds will benefit Free Arts Minnesota.
Talented Twin Cities designers whose fresh spring looks will be seen on the runway include: Amanda Christine, Caroline Hayden, CounterCouture, Gina Marie Vintage, Kathryn V., Kjurek, Russell Bourrienne, Sara Lopez + Lizzie Hillmann and Autumn Kirchman. Local boutiques include: Atmosfere, Cliche, Drama, Karma, Local Motion and Martin Patrick 3. Accessories
Designers include: Cayetano Legacy Collection, Inspire – by Nonmala and Gaochen, Jennifer Marie, Jennifer Merchant Designs, Larissa Loden, Renee Larson and Via Patina.
DJ Bryan Gerrard will spin dance beats for the runway shows. Rocco Altobelli Salon and Day Spa will provide hair styling and make-up for the models. Prima Chic and Erick Deleon of
Modern Day Dapper will be styling the models.
VIP guests will enjoy a sampling of spirits and hors d'oeuvres from top Twin Cities restaurants including Lotus, Barbette and Forepaughs from 8:00 – 9:00 pm. At 9:00 pm, doors will open for general admission. The runway show will be in two parts – the first at 10:00 pm and the second at 11:00 pm. There will be a silent auction on several paintings to benefit Free Arts MN and various live art elements taking place throughout the evening, including an art exhibition curated by RAW Visual Artist Gallery. For more on the gallery, please visit: www.rawartists.org/minneapolis.
In addition to the proceeds from the silent auction, $1 of every presale ticket will benefit Free Arts Minnesota, a non-profit organization dedicated to bringing the healing powers of artistic expression into the lives of abused, neglected and at-risk children and their families. For more on Free Arts Minnesota, please visit: www.freeartsminnesota.org.
General admission tickets will be $20 until April 1st and $25 after. VIP seats will be $50 for reserved seating and include the food and wine sampling starting at 8:00 pm. SEATED VIP tickets are limited. VIP Front row seats are available for $75. Please visit www.envisionmpls.com for more information. Tickets are available online at www.vitalculture.com and at the following boutiques: Atmosfere, Cliche, Drama, Karma, Local Motion, Martin Patrick3 and Rocco Altobelli salon (IDS Location.)
How to Purchase Tickets
Click on the below link to register by going to our website. Just enter your detail and pay the registration fees.
Fees : $20 GA | $50 VIP | $75 FRONT ROW
Tweet