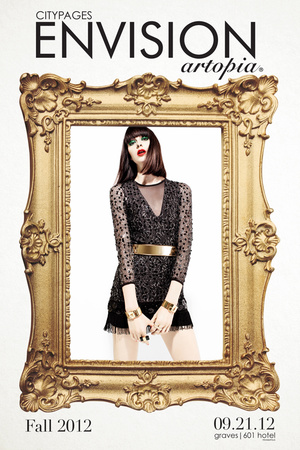 (Minneapolis, MN) August 1, 2012 – As the leaves turn red and gold and a chill fills the air, prepare for autumn in style at ENVISION: Artopia Fall 2012, presented by Ignite Models Inc, V2 Nightlife, Futuretime Productions and City Pages. The Twin Cities' largest fashion event will kick off Minneapolis-St. Paul Fashion Week- ENVISION: Artopia Fall 2012 will be held on n Friday, September 21st in the ballroom of the Graves 601 hotel.
ENVISION: Artopia Fall 2012 is an opulent evening honoring local fashion, art and music. This will be Envision's 11th season and it will feature two high-impact runway shows starring lovely Ignite models who will exhibit 10 talented designers' and boutiques eclectic fall ensembles. The evening will also include an art gallery, pop-up jewelry boutique, live painting, dance beats, creative cocktails, lavish decor and of course, more than 1000 of the best looking fashion enthusiasts in town. A portion of the proceeds will benefit Free Arts Minnesota.
New to this year's show format, ENVISION: Artopia Fall 2012 will feature a few less designers; however, each featured designer will be showcasing 10 looks from their collections. Talented Twin Cities designers and boutiques whose looks will be seen on the runway include: Amanda Christine, Cliché, Drama, deLange Designs, Kayna Hobbs & Jenny Hessman, Khamphian Vang, KJurek, Local Motion, Martin Patrick3 and Roe Wolfe. Accessories Designers include: Cayetano Legacy Collection, Rewind, SBG Designs and Via Patina. Prima Chic will be styling the show. DJ Bryan
Guests can also step into a glimmering room filled with jewels to peruse and shop for sparkling baubles from one of the several local jewelry booths at ENVISION: Artopia Fall 2012. VIP guests will enjoy a sampling of spirits and hors d'oeuvres from top Twin Cities restaurants including Barbette, Crave and Forepaughs from 8:00 – 9:00 pm. At 9:00 pm, doors will open for general admission. The runway show will be in two parts – the first at 10:00 pm and the second at 11:00 pm.
Two artists will create live paintings at ENVISION: Artopia Fall 2012, and guests can browse the works of talented local artists in the RAW Visual Artist Gallery. The silent auction will feature the two live paintings, and also donated pieces by local artists, with all proceeds benefiting Free Arts Minnesota. Artists featured in the gallery include: Jacqui Rosenbush, Joe Ashebrock, Jude Labuszewski , Lucas Gluesenkamp, Lydia Alsdurf and Michael DeMeglio.
In addition to the proceeds from the silent auction, $1 of every presale ticket will benefit Free Arts Minnesota, a non-profit organization dedicated to bringing the healing powers of artistic expression into the lives of abused, neglected and at-risk children and their families.
General admission tickets will be $20 until September 1st and $25 after. VIP seats will be $50 for reserved seating and include the food and wine sampling starting at 8:00 pm. SEATED VIP tickets are limited. VIP Front row seats are available fo $75. Tickets are available online at www.envisionmpls.com , and in person at the following boutiques: Cliche, Drama, Local Motion, Martin Patrick3, Rocco Altobelli salon (IDS Location) and Roe Wolfe.
The Graves 601 Hotel is located at 601 1st Avenue North in downtown Minneapolis. ENVISION: Artopia Fall 2012 will take place in the Fifth Floor Ballroom of the hotel.
The official after-party will be on the rooftop of Crave restaurant downtown admission is free for everyone who attends ENVISION: Artopia Fall 2012. Crave is located at 825 Hennepin in Minneapolis.
How to Purchase Tickets
Click on the below link to register by going to our website. Just enter your detail and pay the registration fees.
Fees : $20 GA | $50 VIP | $75 FRONT ROW
Tweet