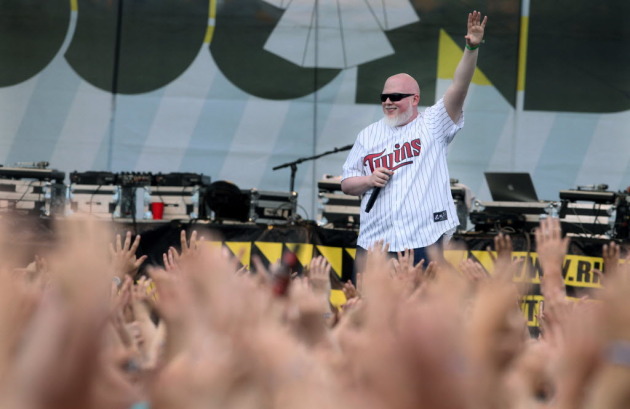 Hosted by Brother Ali, MaLLY & J Pratt
Officially on its fifth year of making the Twin Cities a legitimate festival destination for hip-hop lovers, Soundset will celebrate a handful of years when it returns to Canterbury on Sunday, May 27.
They're playing in addition to the usual roster of local perfomers new and old, who will include Atmosphere, P.O.S., I Self Devine, Prof with DJ Fundo, Astronautalis, Villa Rosa (Muja Messiah and Maria Isa), Audio Perm and the Tribe & Big Cats.
Traditionally, the Soundset stages feature celebrated Rhymesayers' artists, local hip-hop staples, mid-level hip-hop talent and legacy trailblazers, rounding out a lineup that's always worth the effort. Past acts have included Big Boi, De La Soul, Freeway, The Pharcyde, and Method Man & Redman, to name a few.
This year, the lineup is a bit more rooted in the present, with the main headliner representing a bit of salvation for modern southern-style rap: Big K.R.I.T.
It wasn't evident how many fans KRIT has in Minneapolis until last October, when he fell ill right before the Smoker's Club Tour at First Avenue and missed his  headlining set.  Devotees moped outside the club before committing to enter without promise of KRIT's fiery Mississippi delivery, bemoaning the cancellation all over Twitter.
All things considered, it's a great time to be a hip-hop lover in Minnesota.  

How to Purchase Tickets
Click on the below link to register by going to our website. Just enter your detail and pay the registration fees.
Fees : $10 ADVANCE | $15 DOOR
Tweet